Many thanks to Helen and Aering for leading us in celebrating and reflecting on the Solstice last Sunday. The reminder that we all need to take care of each other- especially in the winter months- is always good to hear. (Note: Helen also made my Yule Log and donated it to the Red Bow Fair. It sits on a mantle, above a string of Solstice ornaments that she also made!)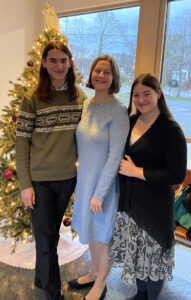 My family and I send our well wishes to you for these winter holidays- whichever ones you celebrate-  Hanukkah, Solstice, Kwanzaa, Christmas and/or the New Year. I will see some of you in person or via Zoom on Friday and/or Saturday. May those who travel, arrive safely. May those who stay home, find comfort and rest. May those who are ill, get healthy!  May those waiting for Santa find out that, yes, there is still magic in the world.
May you all have the kind of "holiday" you most need. Wishing you moments of peace, wonder and joy!
Rev. Lee, Andrew and Emma
P.S. Most unfortunately, I came down with COVID this week and given my symptoms and testing positive, I should not be leading worship around other human beings. I am deeply, deeply grateful to NP member the Rev. Tess Baumberger, who is willing to lead the memorial service for Dick Slade on Friday night, and the 5 & 7 pm Christmas Eve services. Much gratitude to Rev. Tess! Thanks also to Kerry Anne Kilkelly for leading the 3:00 pageant service. Let's all hope for better health in the New Year!