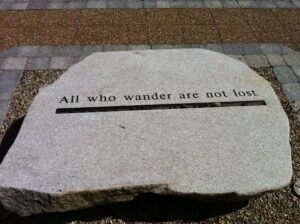 The Minister and Caring Community Coordinator work closely to provide an integrated presence of professional and volunteer support. Strict confidentiality is observed so that people trust their privacy is honored.
While the Minister bears ultimate responsibility for pastoral outreach to the congregation, we feel it is important for each of us to share the honor and responsibility to minister to each other. Though we don't all know each other, and our life experiences are unique, we share relatable feelings, concerns and hopes.  We all have gifts to offer.
Pastoral professionals are trained to support individuals in times of grief and loss, life transitions of all kinds, and to help individuals explore questions and concerns about their spiritual life and journey. They offer committed presence in times of spiritual crisis. If the need for therapy is identified in addition to pastoral support, an individual seeking help will be referred to qualified professional therapy resources to address those concerns.
What pastoral support is available?
Through our Minister or other professional
Confidential pastoral conversations on grief and loss, any of life's changes or challenges such as job loss, a child leaving home, a parent transitioning to a nursing home, a new family member through birth or adoption etc.
A safe place to explore your feelings of pain, guilt, disappointment, shame, overwhelm, or to plan a celebration or talk through a new job, going to school or another joyful event
Referral to special services for grief counseling, hospice, mental health, addiction, elder or community services etc.
Through a member of the Caring Community
Friendly visits (home, hospital, church grounds, go for a walk together…)
Contact through cards, 'check in' phone calls, zoom group gatherings
---
How do I…
Arrange for pastoral support
Please email either our Minister or the Caring Community. Our Minister or a member of the Caring Community will contact you as appropriate.
During summer months, our area ministers provide pastoral support coverage for each other. During July and August, here is where you will find the contact information for coverage during those months.
Volunteer to help
If you have a service to offer or are interested in training for Lay Ministry, please email the Caring Community.