Our Mission and Commitment
Our mission is to act according to our UU principles for climate justice. We are a community whose members believe we must protect the "interdependent web of all existence of which we are a part."  We work to integrate environmental awareness and environmental justice in our church community, our personal lives, and our wider communities and will continue the work until Earth is once again a healthy Sanctuary for all.
Our commitment is first, to educate ourselves and members of the community on climate issues, then to:
We build community by
Collaborating with local and state climate justice groups, particularly UU MassAction.
Engaging in regular meetings.
Facilitating periodic book and movie discussions.
Educating ourselves and the wider community on the climate crisis and its solutions by hosting guest lecturers, facilitating workshops, listening and learning from each other.
Hosting Vegetarian Potluck dinners and sharing Earth-friendly recipes.
For upcoming dates on any of these events see our  Events calendar (select Climate Justice Team as the Organizer).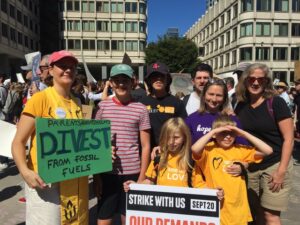 We live our values by
Lessening our impact on the Earth by, for example:
Eating less meat.
Reducing the amount of plastic we use, recycling, and composting.
Engaging in community issues.
For information on our Current Initiatives visit our News page (select Climate Justice under View All).