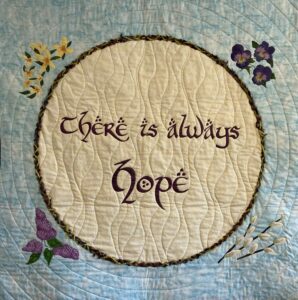 Sunday, November 27th, 2022
10:00am – In the Sanctuary and also via Zoom
Zoom link  (Meeting ID: 824 0481 1225, Passcode: NP375)
Order of Service
November 27th: Hope on the First Sunday of Advent
Preaching:  Denise VanVooren and Aaron Pawelek on hope and waiting during the Advent seasonMusic:  The Choi-Wright family (Anna, Sam, and Andy) with John Middleton-CoxChildren and Youth:  Meet in the fellowship hall to make Stone Soup!
Tech Team:  Ellise Nealey, and Steve Vail
Ushers:  Cara Forcino and Heather McNeil
Greeters: TBD
Zoom Host:  Erika Cohen Maddaluno
Coffee Hour:  TBD
Aaron Pawelek is chair of the worship committee, a member of the choir, and a Soul Matters small group leader at North Parish. He has a Master of Social Work and a Master of Theological Studies from Boston University. He practices pastoral pscyhotherapy with the New England Pastoral Institute in Salem, NH and teaches a continuing education course for the Association of Clinical Pastoral Education known as the "Pastoral Care Specialist Training Program".
Denise VanVooren is an ordained Interfaith Minister and Chaplain and End of Life Doula.  At North Parish she served on various committees, led a Small Group Ministry group for five years, has co-facilitated a number of 'Cakes for the Queen of Heaven' and' Women of Wisdom Groups', offered Vespers and Death Cafe, and most recently provided Caring Community support during the covid pandemic.
Upcoming Worship
Dec. 4th  Peace/Second Advent
Preaching: Rev. Lee Bluemel
Dec. 11th Joy/Third Advent
Preaching: Rev. Lee Bluemel
Dec. 18th  Light/Hanukkah & Winter Solstice
Preaching: Rev. Lee Bluemel
Saturday Dec. 24th Christmas Eve/Love
3:00 All ages Pageant Service
5:00   Service of Music, Lessons and Carols
7:00  Service of Music, Lessons and Carols
Sunday Dec. 25th: No service
Sunday Jan. 1st:  New Year's Day Hike from North Parish!  No service.
Note: "Masked only" seating will be in the pew section next to the Labyrinth windows. In the other pew sections, masks are not mandatory. The Meeting House is now a "mask friendly" space.
---
Help us create lovely Sundays!
Sunday Team Sign-ups
Flower/Steeple Lighting Sign-ups
Fall Registration is Now Open
Children and Youth Class Registration
RE/Youth Program Volunteers Needed!
We need you! North Parish runs cooperative programs to fulfill our mission of UU faith development for children and youth.  Parents and non-parents are part of this ministry in a variety of roles.  Please sign up to be part of our Sunday Team of volunteers for Elementary and Youth programs.
Volunteers are also needed for a variety of roles outside Sunday morning classroom, including planning roles on the Youth Adult Team or Elementary RE Team, and as companions to youth as COA mentors or coordinators. For those roles, please email Director of Faith Formation Kerry Anne Kilkelly at faithformation@northparish.org
Thank you!
Did you hear about a service you missed? Wish you could have been there?
You can still see them! Services from 2020 and onward are available on YouTube through our Service Archive.
---
Policies about our Gatherings
We are a "mask friendly" congregation (vs "mask required"), and in the spirit of creative experimentation, will set aside a portion of the sanctuary for those who wish to sit among people wearing masks (the left hand aisle as you face the pulpit).  Here are the current guidelines. These guidelines for access and use of our indoor and out space will continue to evolve with protocols on what we can and cannot do to keep us all safe. If you have questions, please phone or email the office. Updates on the status are also posted in the weekly eNews and on the News page of our website.
A Note on Parking
Our parking at North Parish is not ideal.  There are spaces on Great Pond Road.  There are spaces for those with disabilities and infants right next to the circle in front of the building. You may also park diagonally on the grass on the left side of Academy Road as you head up the hill from the Meeting House.  You can park in front of the Academy Road cemetery. You can park in the town lot near the Youth Center.  The NA Historical Society has a regular 10AM group meeting at the Stevens Center so please consider their lot a last option, and only if there is no room in any other nearly public parking.  Please try avoid the grass in front of our neighbors' homes. Thank you!
Here is an aerial map showing the location of nearby parking.
---
There are many ways to participate in our service. Whether you choose to sit and absorb, stand and sing, or offer your talents to our musical offerings or a reading, we are glad to see you. 
Here are ways that you can contribute to creating our Sunday service: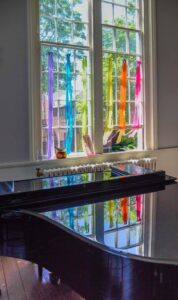 Sunday services are a focal point for worship at North Parish, both in person or close-captioned via Zoom. Whether the more structured service in the Sanctuary from September-June or a more casual gathering in the air-conditioned Chapel during summer months, we offer an hour of rest, beauty, music, laughter, community, simple ritual, provocative words, thoughtful reflections and a chance to step back from the day-to-day anxieties and preoccupations of life.
You can expect a warm welcome regardless of your age, background, family status or interests. You can expect a multigenerational community and a safe, creative, wonder-full environment for children and youth.
Here is a broader glimpse at what you can expect during a Sunday service.