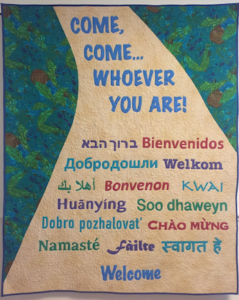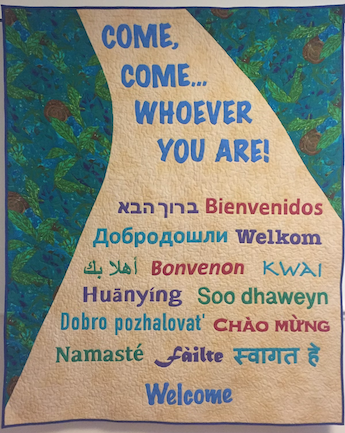 Sunday, April 2, 2023 Approaching Passover/Pesach
10:00am – In the Sanctuary and also via Zoom
Zoom link  (Meeting ID: 824 0481 1225, Passcode: NP375)
Order of Service
Preaching: Rev. Lee Bluemel, A UU Passover Midrash
Music:  John Middleton-Cox, Barry Low (accordion); music from the Jewish tradition
Time for Wonder: Passover and Freedom!
Outreach Collection: People's Pantry
Children: RE groups K-2nd & 3rd-5th
Youth: 6th-8th (JYG) Parlor; 9th–11th (COA) Flex Room
Coffee Hour: UnCommon Threads purse/jewelry collection; Grief Circle at 11:30 in Chapel
When is the last time you read the story about Moses' and the Israelites' escape from slavery in Egypt?  (If you want to do so before Sunday, you can find it in the book of Exodus in the Tanakh or Hebrew scriptures.) It is quite an epic tale about communal liberation and was a crucial story for those of African descent who were enslaved in this nation. Does it carry any resonance for you? We'll engage in a UU Passover "midrash", which is a Jewish tradition of interpretation that seeks answers to religious questions by plumbing the meaning of the words of the Torah.
The Jewish holiday of Passover begins at sunset Wednesday, April 5th and ends on Thursday night, April 13th. In the Christian tradition, this Sunday is observed as Palm Sunday and is followed by Holy Week and Easter; our area UCC or United Church of Christ congregations (West Parish, South Parish, Trinitarian Congregational) are glad to welcome anyone wishing to enter deeply into that story in the week ahead.
March Monthly Outreach Collection
This month's outreach collection will go to The Peoples' Pantry, who is now serving over 300 families at each pantry compared to 100 prior to the pandemic.  Recent cuts in SNAP (Food Stamps) benefits have made the problem worse.  The amount of food they get from the Food Bank is not meeting the demand and they will need to buy food to make up the difference for the next pantry this Tuesday, April 4th.
If you would like to donate, please make checks payable to North Parish with "People's Pantry" in the memo line.  You may give also give on our website, www.northparish.org, under "Give" and then "Ways to Give", Click on "Special Projects" and select "People's Pantry" from the drop-down list.
Did You Know?
The Zoom link for Sunday service stays the same week-to-week. If you're ever in need of the Zoom link and can't find it, check past eNews emails, the Sunday page on the website, or save the Zoom link somewhere easily accessible.
Miss Last Week's Service?
You can read past sermons here or watch any of our past services on our YouTube channel!
Note: "Masked only" seating will be in the pew section next to the Labyrinth windows. In the other pew sections, masks are not mandatory. The Meeting House is now a "mask friendly" space.
---
Upcoming Worship
April 9th: Easter
Preaching: Rev. Lee Bluemel
Music: Children's Choir, Youth Singers, Adult Vocal Choir; John Middleton-Cox, Christina Kennedy
---
Help us create lovely Sundays!
Sunday Team Sign-ups
Flower/Steeple Lighting Sign-ups
RE Registration is Open
Children and Youth Class Registration
RE/Youth Program Volunteers Needed!
We need you! North Parish runs cooperative programs to fulfill our mission of UU faith development for children and youth.  Parents and non-parents are part of this ministry in a variety of roles.  Please sign up to be part of our Sunday Team of volunteers for Elementary and Youth programs.
Volunteers are also needed for a variety of roles outside Sunday morning classroom, including planning roles on the Youth Adult Team or Elementary RE Team, and as companions to youth as COA mentors or coordinators. For those roles, please email Director of Faith Formation Kerry Anne Kilkelly at faithformation@northparish.org
Thank you!
---
Policies about our Gatherings
We are a "mask friendly" congregation (vs "mask required"), and in the spirit of creative experimentation, will set aside a portion of the sanctuary for those who wish to sit among people wearing masks (the left hand aisle as you face the pulpit).  Here are the current guidelines. These guidelines for access and use of our indoor and out space will continue to evolve with protocols on what we can and cannot do to keep us all safe. If you have questions, please phone or email the office. Updates on the status are also posted in the weekly eNews and on the News page of our website.
A Note on Parking
Our parking at North Parish is not ideal.  There are spaces on Great Pond Road.  There are spaces for those with disabilities and infants right next to the circle in front of the building. You may also park diagonally on the grass on the left side of Academy Road as you head up the hill from the Meeting House.  You can park in front of the Academy Road cemetery. You can park in the town lot near the Youth Center.  The NA Historical Society has a regular 10AM group meeting at the Stevens Center so please consider their lot a last option, and only if there is no room in any other nearly public parking.  Please try avoid the grass in front of our neighbors' homes. Thank you!
Here is an aerial map showing the location of nearby parking.
---
There are many ways to participate in our service. Whether you choose to sit and absorb, stand and sing, or offer your talents to our musical offerings or a reading, we are glad to see you. 
Here are ways that you can contribute to creating our Sunday service: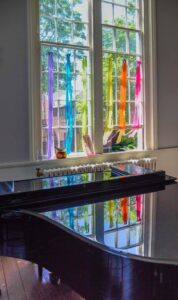 Sunday services are a focal point for worship at North Parish, both in person or close-captioned via Zoom. Whether the more structured service in the Sanctuary from September-June or a more casual gathering in the air-conditioned Chapel during summer months, we offer an hour of rest, beauty, music, laughter, community, simple ritual, provocative words, thoughtful reflections and a chance to step back from the day-to-day anxieties and preoccupations of life.
You can expect a warm welcome regardless of your age, background, family status or interests. You can expect a multigenerational community and a safe, creative, wonder-full environment for children and youth.
Here is a broader glimpse at what you can expect during a Sunday service.