Service this Sunday, 10-11 AM
Attend onsite
December 5 registration. Limited to 80 people; you must register in advance. Remember to bring your mask!
Attend via Zoom
Zoom link (Meeting ID, 824 0481 1225; Passcode NP375)
See this News article for more details on the re-opening and COVID protocols.
The sermon topic and Order of Service for this week are updated on Fridays
Dec 5
The Order of Service 
Preaching: Rev. Lee Bluemel
Music:  John Middleton-Cox, Erin Lane
To keep everyone safe…
Please wear a mask to all events to take extra precaution for the more vulnerable among us, including children under 12.  We expect those who attend in person to be vaccinated.
Did you hear about a service you missed? Wish you could have been there?
You can still see them! Services from 2020 and 2021 are available on YouTube through our Service Archive.
---
Indoor Programming for Children and Youth
Due to COVID, at this time we are running a modified Faith Formation Program.
TIME CHANGE: Classes will be held indoors on Sundays from 10:00 to 11:00
Programs include children (PreK-grade 5), Junior Youth (grades 6-8), and Senior Youth (grades 9-12). Here is a full description of the programs available and registration information.
---
There are many ways to participate in our service. Whether you choose to sit and absorb, stand and sing, or offer your talents to our musical offerings or a reading, we are glad to see you. 
Here are ways that you can contribute to creating our Sunday service: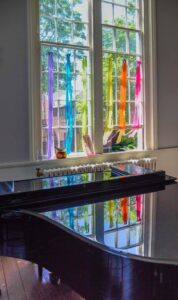 Sunday services are a focal point for worship at North Parish, both in person or close-captioned via Zoom. Whether the more structured service in the Sanctuary from September-June or a more casual gathering in the air-conditioned Chapel during summer months, we offer an hour of rest, beauty, music, laughter, community, simple ritual, provocative words, thoughtful reflections and a chance to step back from the day-to-day anxieties and preoccupations of life.
You can expect a warm welcome regardless of your age, background, family status or interests. You can expect a multigenerational community and a safe, creative, wonder-full environment for children and youth.
Here is a broader glimpse at what you can expect during a Sunday service.