Service this Sunday, 10-11 AM
Here is the Zoom link (Meeting ID, 824 0481 1225; Passcode NP375).
Here is the Order of Service. 
Fear of Missing Out No More
With Rev. Lee Bluemel and music from the 1980s–2021, with Aaron Pawelek (guitar) and Keith Wentzel (drums) joining John and Erin
This week we take note of the 251st anniversary of the first Universalist sermon preached in Good Luck, NJ by the Rev. John Murray after his boat ran aground off shore. With its message of "universal salvation" and rejection of eternal damnation, Universalism eliminated the main source of fear and trembling in Christianity at the time.  As the decades went on, Ultra-Universalism became more popular, with its mantra "Death and glory!" Opponents said removing fear of damnation would lead to a society of loose morals… and not only that, no one would go to church without fear and dread hanging over their heads!  Were they right?  Or does Unitarian Universalism have something powerful to offer our fear-filled society today?
This month's outreach collection will be inspired by Dave Lewis, who will offer a testimony about UU "faith in action" and the opportunity to support local Afghan refugees. For more information about this effort, read the News post about the work of IINE (International Institute of New England). 
Programming for Children and Youth
Let your spirit breathe outdoors!
Our young people are invited to gather in our backyard at 11:30 on Sundays this fall for outdoor UU fun and learning.
Programs include children (PreK-grade 5), Junior Youth (grades 6-8), and Senior Youth (grades 9-12). Here is a full description of the programs available and registration information.
To keep everyone safe…
Please wear a mask to all events to take extra precaution for the more vulnerable among us, including children under 12.  We expect those who attend in person to be vaccinated.
---
There are many ways to participate in our service. Whether you choose to sit and absorb, stand and sing, or offer your talents to our musical offerings or a reading, we are glad to see you. 
Here are ways that you can contribute to creating our Sunday service:
---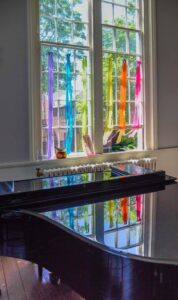 Sunday services are a focal point for worship at North Parish, both in person or close-captioned via Zoom. Whether the more structured service in the Sanctuary from September-June or a more casual gathering in the air-conditioned Chapel during summer months, we offer an hour of rest, beauty, music, laughter, community, simple ritual, provocative words, thoughtful reflections and a chance to step back from the day-to-day anxieties and preoccupations of life.
You can expect a warm welcome regardless of your age, background, family status or interests. You can expect a multigenerational community and a safe, creative, wonder-full environment for children and youth.
Here is a broader glimpse at what you can expect during a Sunday service.