A typical service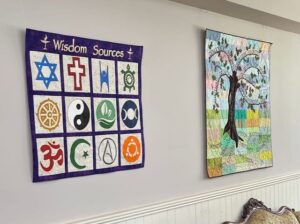 Worship at North Parish is a mix of old and new. Our services often include hymns, readings, prayers, special music, simple rituals, and a sermon.
Our content, however, is contemporary. The music, readings, and lessons speak to the lived experience of the people in the pews. 
Drawing from philosophers, preachers, artists, writers, composers, and creators across generations and around the world, the beliefs of Unitarian Universalism offer a wide range of themes and wisdom that reflect the diversity of our spiritual aspirations. 
Our Sunday worship might draw its theme from the season and one of our wisdom sources – the Winter Solstice or the Jewish High Holy Days – or it might be a theme that small groups are focusing on that month. It might include readings from Unitarian Universalist authors or poets and mystics of many nationalities and religious traditions. You might hear music from the classical period and a current pop song. You might see new artwork hanging in the sanctuary or a theatrical production. A theme, image or question at the heart of each service ties all of these elements together. 
Our services are multi-generational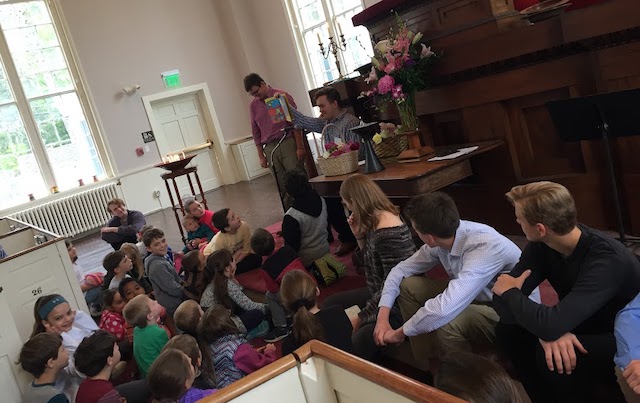 North Parish is a family friendly place where all are welcomed to worship together. From September-June children and youth join us at the beginning of each service. Many services include a "time for wonder" when children gather at the front for a story. Afterwards, generally 15-20 minutes into the service, our children and youth leave to go to their own programs. 
 In addition to Story Time during many services, some Sunday services are shorter and specially designed to engage members of all ages. On these Sundays, children and youth remain in the sanctuary with their family for the full service. Some of our All-Ages services include Rock and Water Communion (bringing tokens from meaningful summer adventures), Bread Communion, the Christmas Eve Pageant service, Chocolate Communion, Flower Communion, and Animal Blessings.
Families with children are encouraged to participate in ushering and the lighting of the chalice. Parents may choose to pick up a "busy box" of crayons and paper available on the back tables of the sanctuary when they enter the sanctuary or bring a quiet activity from home. 
If your children would like to try one of our religious education classes, please email our Director of Faith Formation to schedule a visit. During the summer months we do not hold formal programs for children and youth. Nursery care is always available.