Our Caring Community is a network of volunteers within our congregation who, through acts of kindness and generosity, offer practical and pastoral support to others in the church community.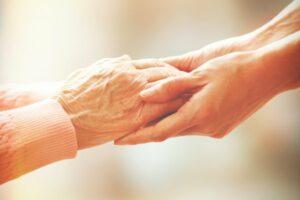 What we can do
Examples of practical support our Caring Community offers:
Delivery of a cooked meal
Rides to church or a medical appointment
Simple local errands
Loan of durable medical equipment (e.g., wheelchair, shower stool…)
Phone "check in" call
Friendly visit from a church member (at home, in the hospital, share a walk, etc.)
Gift of a hand knit or crocheted prayer shawl (instructions here)
Gift of a "Ritual Kit" for support after the loss of a loved one
Help with a reception after a Memorial Service
Gift of a "Blessings Bag" of goodies
Gift of a Reiki session with a certified practitioner
Information on organizations and websites that offer outreach and support
---
How do I request assistance
Review the full list of practical support offered. If you are in need of support on those listed or in other ways, email the Caring Community or Minister, or email  or call the church office. Our Minister or a member of the Caring Community will contact you.
How do I volunteer to help
All are welcome to join our volunteer Caring Community and respond to requests when the time is right for you. We respect your skills and honor your boundaries of time and availability. If you are moved to offer your help in small or large ways to the community,  and use the Caring Community Volunteer Interest form to let us know how you would like to assist. For more information or questions, email the Caring Community.