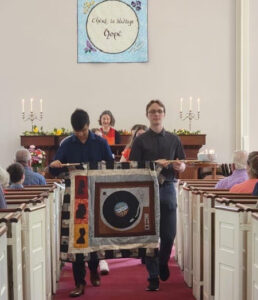 The June Soul Matters theme is "delight", and one of the questions posed is this: What summer activity delighted you most as a child?
There's also a list of possible delights: "Catch fireflies in a jar ● Slip-n-slide ● Build a sand castle ● Build something grand with Legos ● Build a model car ● Go to a drive-in movie ● Make tie-dye shirts ● Go berry picking ● Ride a Ferris wheel ● Cannonball into a pool ● Fly a kite ● Make homemade ice cream." There are a lot of things left off that list of course, for the fortunate. How about going to camp, swimming, daydreaming, reading a good book, playing outdoor games with neighbors, riding a bike, making up skits, dancing at an outdoor concert, picking vegetables, eating fresh fruit, running through the sprinkler or through an opened fire hydrant? Which of these things- or others- might delight you today? Will any of them (or all of them) be part of your summer?
There is so much to bring us down in the world. But despite it all, we are invited by summer, the earth, fellow creatures and fellow humans to seek out and experience simple delights… and often what we focus on grows. This Sunday, we'll offer some delight to our children and youth via a year-end party with games and an ice cream truck. Before the party, we will be saying thank you to Kerry Anne Kilkelly for her incredible work as our Director of Faith Formation, as this will be her last Sunday in that role (although she is not leaving North Parish).
Summer services will begin on June 25th in the Chapel, with many thanks to the Worship Committee and summer service leaders. If you are heading off early to somewhere that you feel delight, think about collecting some water, a shell or a stone to bring to our first service in September (a long way away!) May we each find something to delight in, today, and perhaps find a way to share it.
Hope to see you at the Meeting House this Sunday,
Rev. Lee
P.S. I will be attending Ministers' Days at General Assembly (via Zoom) on Monday night, Tuesday and Wednesday. Thanks to our GA delegates who will vote on behalf of North Parish: Cara Forcino, Gail Forsyth-Vail and Lynn Wentzel!