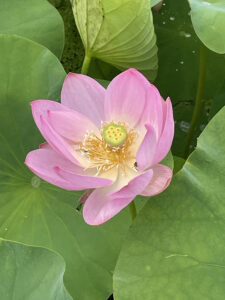 At the end of this unseasonably hot and sweaty week, we get to re-gather in our sanctuary for a big ol' homecoming and water communion service. Hooray! I hope that some of you (and some of the kids) will remember to bring a stone, a shell or some water to add to the common bowl.
"Welcome" is the "soul matters" theme this month. Here are a few reflection questions if you care to ponder:
Who welcomed you in when you needed it most?
What is one of the biggest changes you've welcomed into your life?
Has welcoming change gotten easier or harder as you've grown older?
What new ideas have you welcomed since becoming a Unitarian Universalist?
If you were to name two simple ways that you could help North Parish be more welcoming, what would you say?
In case you "took the summer off" and are just tuning in now, before we get to Sunday's service we have two big events on Saturday: the memorial for Joannie Warnshuis and a Crossroads Concert. A note for those feeling cautious about COVID which is in a bit of an upswing again, drat! We will continue to designate one side of the sanctuary for those wearing masks and one side for those without. There will be food at coffee hour but all are welcome to mingle outside if preferred. We plan to have the services accessible on Zoom again for anyone who is COVID positive, has been recently exposed to COVID, or who must be extremely careful with their own or a loved one's health.
Whoever you are, wherever you are, however you are and whomever you love- I hope to see you one way or another, sooner or later, at the Meeting House this month. Please come just as you are.
With stones in my pockets and shells on the windowsills,
Rev. Lee