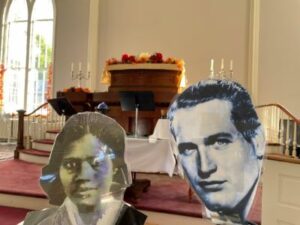 It has been so long since the congregation has been able to sit in our beautiful sanctuary. While we are still in the midst of a pandemic, the Board of Trustees has authorized in person worship, beginning this next Sunday, October 3rd. While we do NOT want to encourage anyone in a high risk group to attend in person (or anyone who prefers to be cautious,) we are also responding to those who have passionately requested access to the sanctuary. Zoom services will also continue online.
At North Parish we are following the "Swiss Cheese model" of taking multiple layers of precaution. This means that for those attending service in person we will require vaccinations, masks, social distancing and conversation outdoors. The windows will be open and worship leaders will maintain safe distance and stay masked unless they are speaking or singing.
Key Pieces of our Covenant for gathering in person during COVID:
We ask that…
1. …only fully vaccinated people attend in-person services.
2. …all wear masks.
3. …all sit according to the six-foot distanced seating chart. Look for the famous UUs and sit behind them, in pods of no more than 4 people.
4. …all refrain from singing. Humming or speaking the words of hymns is allowed.
5. …all children age 12 and under- and any older children who are not vaccinated- stay out of the Meeting House. Children and Youth Faith Formation begins outdoors at 11:30.
6. …all walk outside immediately following the postlude for post-service conversation rather than lingering in the pews.
7. ….those who use the restrooms do so one at a time.
A Note on Seating:
We will have socially distanced seating for 37 "pods", which means 1 – 4 people sitting together, for up to about 80 people total. If you have more than 4 people in your group, we'll ask you to separate to fill up "2 pods" worth of space. Every other pew will be marked with rainbow ribbon to indicate no access. There will be "famous UUs" sitting in the front pews, so let them be your guide to pod size and location. Pews in the middle will have better visual sight lines but pews near the open windows will have more of the breeze.
A Note on Risk:
We are still in the midst of the pandemic and can not 100% guarantee that our space will be virus-free, despite all the precautions we've taken. While infection rates fell slightly this week in North Andover, Methuen and Lawrence, they were still rising in Andover and Haverhill. Infection rates today correspond to infection rates last mid-April, however more of the population is vaccinated than it was 6 months ago.