This week, Carl Mellin sent me the newsletter column of a minister from Martha's Vineyard, telling the story of what happened when two planes carrying 50 migrants from Venezuela arrived without warning. As you may have read, the community pulled together. Churches, the high school, local counselors, emergency services, high school Spanish students… they all responded. The migrants got food, overnight shelter at a church, listening ears, legal help, kindness.
What if planes of migrants unexpectedly land some day at Lawrence Municipal Airport down on Sutton Street in North Andover? It could happen! I assume that we, too, will jump into action. Any of us who has cooked for Bread and Roses knows how to make hot meals for crowds; our Pantry has food and volunteers. We have people who know people who are fluent in Spanish, who know the local clergy and non-profit networks, who know folks at the International Institute of New England and Community Giving Tree. We know how to smile and listen and look strangers in the eye.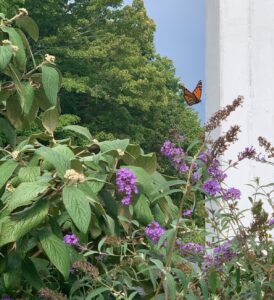 As one of you confessed to me this week, after two years of COVID, a lot of y'all got out of the habit of coming to Sunday services. I hope that this fall, church gets back on your "good habits" list. I think it is one. And not just for navigating the weekly ins and outs of our own lives, but for responding to the crises- the unexpected times when we need to pull together because that is what is required and what we want to do. We lay the groundwork every week.
Would we do as good a job as the congregations on Martha's Vineyard? We can't know until we're tested. But I hope so!
See you at the Meeting House,
Rev. Lee