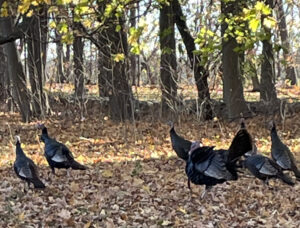 As I was driving to work up Academy Road this morning, I spied a passel of turkeys heading for a field. "Wow", I thought, "right on time!" It could have been a scene from November 1836. This was reassuring to me.
Those wild turkeys are probably safe from being shot since most of us get our food from turkey farms or the grocery store… and besides, some of us are vegetarians. But they reminded me that Thanksgiving is around the corner, and that our late fall/winter holiday traditions are so deeply tied to the earth, the seasons and our fellow creatures. Meanwhile, as the UN Climate Change Conference COP27 is reminding us, wealthy nations need to change our ways if the earth, the seasons and our fellow creatures are to resemble what they are today, in the not-so-distant future.
Last Sunday, I reflected that in the midst of tremendous and chaotic change in our world, Unitarian Universalists share a loyalty to our UU ethics (or principles). We share the goal of extending love to one another and our fellow beings. And we share experiences of feeling awe or reverence for All That Is. This is a modern UU translation of the words of Rev. Theodore Parker who spoke of a Unitarian faith of "pure morality", "love to man" and "love to God", way back in the 1840's. Some might call us modern Transcendentalists.
Despite the passage of almost two centuries, wild turkeys are still walking Academy Road and the congregation is still meeting for our "weekly booster shot" of morality, love and awe. Despite all our very real challenges, there is much to be thankful for.
See you at the Meeting House,
Rev. Lee
P.S. On November 20th, we will be welcoming our newest members into the congregation. If you've been meaning to make your affiliation with North Parish "official", visit this page to fill out a membership form this week!