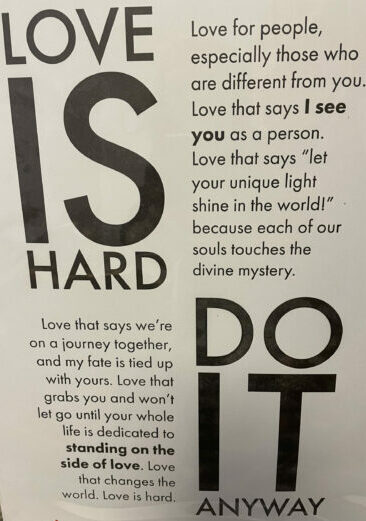 I'd like to thank the four people who did some powerful truth-telling last Sunday as we reflected on the 8th Principle: Anna Choi, Darnell Canada, Gail Forsyth-Vail and Erika Cohen-Maddaluno. If you missed the service, I recommend listening to their reflections, which you can find in the Sunday service archives. (The four reflections begin at about 48:15) 
If you are seeking ways to start acting on the 8th principle right away, a few ideas: we always need more greeters to welcome folks before the service and at coffee hour, the UU Mass Action Advocacy Day (March 28th) is a way to target critical legislation for BIPOC communities in the span of an hour, and the 1619 book group welcomes newcomers.
The Soul Matters theme for March is "vulnerability". Telling one's truth can be a vulnerable act, and for some folks, too dangerous to do. How vulnerable or safe do you feel when it comes to sharing your truth- about your identity, your religion, your fears, your finances, your opinions, your affection, your hurts, your exhaustion or need for help? I hope that our small groups and the congregation feel like safe places to practice truth-telling.
Yours, as we head towards Purim and the Spring Equinox,
Rev. Lee