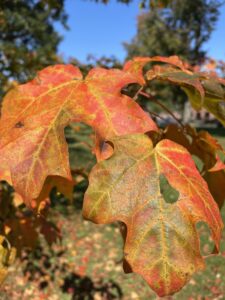 It's that time of year again… the season for "Tree of the Day".
Those who have been at North Parish for a while know about this fall spiritual practice: keeping my eyes on the glorious leaves and daily choosing one tree to be my "Tree of the Day". The tree doesn't receive any benefits from this designation other than deep appreciation and secret honor; the benefits to the human are considerable.
I'd suggest that these days, lifting ones eyes from the mundane of our lives- or the alarming and depressing news- is a critical spiritual practice. If you want to try it, I encourage you!  When a tree catches your eye, take a breath- or two. Rest for a moment in beauty. Let the tension fade from your body and mind. Take in the colors, the wondrousness of changing leaves. Take in the tree-ness of a tree and the value of arboreal life. You can do this in the car or on a walk; you can share your choice with a friend or smugly keep it to yourself. You can cheat if you need to and designate several Trees of the Day. It's up to you.
As I said to the children on Sunday as we looked at the beautiful tree quilted by Debb Putnam, there is so much holding us up, so much keeping us alive, so much to be grateful for, so much reminding us of the kind of people we want to be.  Unitarian Universalism is rooted in a number of wisdom traditions. From those roots grow the sturdy branches of our ethical principles. From those roots and branches grow leaves- how each of us inhabits the world. And surrounding the tree, keeping it alive, there is air and sunlight as well as water and nutrients underground. In our metaphor, we might summarize everything that the tree depends on to live as "the spirit of life".
When we feel down, alone or overwhelmed, we can look at the trees. Just to see them. Just to breathe. Just to appreciate beauty. Or we can also get metaphorical and let trees remind us that we UUs are supported by ancient wisdom traditions, communal ethics, a real live in-person community and the Spirit of Life. Aren't we lucky?
Happy looking!
Rev. Lee