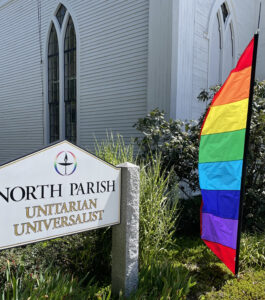 It's that transitional (busy, excited, anxious) time of year again for families as kids of all ages enter new grades and new schools. Meanwhile, "empty nesters" may be looking forward to vacations now that the crowds are back in the school routine. There is just one more summer service in the Chapel this weekend followed by a rest over Labor Day Weekend. The summer Sunday crowd has been loyal, engaged and rewarded by our summer worship leaders. So many thanks to them and to the Worship Committee of Aaron Pawelek, Heather McNeil and Melissa White!
When we re-gather as a much larger congregation with our water communion ritual, we'll be coming in from many different sorts of summer experiences… even as I suspect we have all been a bit emotionally battered by the news of heat, fires and floods of climate change weather. Some of us got sick, others were well. Some had challenges.  Some had adventures. Some stayed home and went to work or watched the rain. Some saw family, some said goodbye to loved ones. I lost a college friend this summer which was very sad. The memorial was over Zoom, and I realized yet again that it's just not the same- or as healing- as gathering together in person, in community. I am grateful that we'll be in the sanctuary again this fall.
Director of Family Religious Education Susanne Hinson-Rieger and I have been working to plan for the Religious Education program and the new year, along with various church teams. What kind of joy and connection do you seek, and what might you offer? If you like to sing, how about joining the Choir for September 10th (by emailing Christina Kennedy.) If you are delighted by the things kids say and do, how about spending some time with "our kids" (by using the yellow button on our website Home Page to sign up.) There are many ways to seek, witness and offer joy at North Parish.  There are many ways to belong.
To those in the thick of the new school year transition- breathe deep! To those heading out to beautiful places- remember us and bring back a stone, shell or some water! Sept. 9th and 10th will be a big North Parish weekend, with the memorial for Joannie Warnshuis, the Crossroads Concert and our Homecoming service. I'll be seeing you soon!
Yours in belonging and in the transition,
Rev. Lee