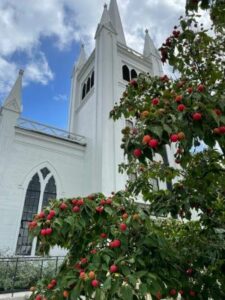 "The moon is full, the autumn nights grow longer,
in the north forests startled crows cry out.
Still high overhead, the star river stretches,
the Dipper's handle set to southwest…"
– Wei Ying Wu
Suddenly, it is here: the season of crisp apples, morning fog, cooler nights and warm afternoons, turning leaves and all things autumn. And- aren't we lucky?- it all began with a gorgeous full moon!
At our staff meeting this week, I shared some words by the poet Wei Ying Wu who lived from about 737 to 792 in Suzhou, China during the Tang dynasty. I love thinking about him looking at the same full moon and starry sky that we stare at today. He was influenced by another poet, Tao Yuanming, who wrote in the 5th century! I bet Tao Yuanming also stared at the stars and moon… probably a lot more than we do.
Wei Ying Wu's poem continues:
"The cold cricket grieves deep in the chambers,
of the notes of sweet birds, none remain.
Then one evening gusts of autumn come,
one who sleeps alone thinks fondly on thick quilts…
Man's life is not as the grass and trees,
still the season's changes can stir the heart."
Perhaps your heart is stirring, too?
Along with the season's changes, other things are stirring at North Parish. This week, we'll be completing our second "in-person practice service" with members of the Parish Council joining members of the Board and the North Parish 2.0 team in the pews. Please read the NP 2.0 report in this Enews, as it has a lot of crucial information regarding our shift to "Hybrid" services. A reminder: We will continue with offering the service via Zoom "forever". But if you've been waiting to be back in the sanctuary, now is the time to pay attention.
This next week we will also welcome to our second brand new staff member. Amy Ruiter will be joining us as our new Youth Coordinator, and we are delighted! You can read more about Amy's background in the Board column and you can meet her on Sunday mornings outdoors at the Meeting House.
May you each find delight and solace in the tastes, temps, colors and smells of autumn,
Rev. Lee