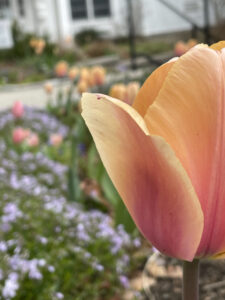 We've made it to Beltane, the mid-way point between spring equinox and the summer solstice! Beltane (May 1st) is a holiday that comes from Ireland, Scotland and the Isle of Man.  It's a time to decorate your cows, dairy equipment, doorways, and May bushes with flowers and ribbons. It's a time to drive your cattle between two fires and then out to summer pastures, and to jump over a fire yourself for protection from disease. It's a time to visit holy wells and put the morning dew on your face if you want to look youthful! You might also want to appease the aos si (nature spirits or fairies), dance around a May pole, or walk around the boundaries of the property where you live, stopping at the four cardinal points. Or you might want to come to North Parish on Sunday for an earth-centered service.
Most of us don't have cows, but we'll continue our Earth Day theme and follow up on last week's sermon by Claire-Karl Muller with music and reflection about place-based spirituality and what happens when we think of our rivers as "persons". For those with time looking to express a little love, this weekend there is an Earth Day Clean Up in Lawrence led by Groundworks Lawrence, our outreach recipient on Sunday. It begins on Campagnone North Common and runs from 8 to 1. In North Andover, the town's Earth Day Clean Up is on Sunday from 10 to 2, so feel free to come to service in your "grubbies" and head out afterwards.
When I was in high school, I was part of a group of madrigal singers that sang Thomas Morley's song Now Is the Month of Maying. It pops back into my head from my subconscious at this time of year, although I haven't sung it with a group in 34 years and simply do not remember the alto line on all those fa-la-las! The rituals and songs of the season can bring us delight, keep us grounded and remind us to give back, even in tough times… which is one reason why we "do church" together.
Yours, fa la la-ing all the way home,
Rev. Lee
P.S. If you're interested in supporting indigenous justice after listening to Claire-Karl last week, here is a summary of the bills that UU Mass Action is asking UUs to support by contacting their reps. For more info, talk to Prudence Barker, Nancy Lennhoff or Karen Martin.