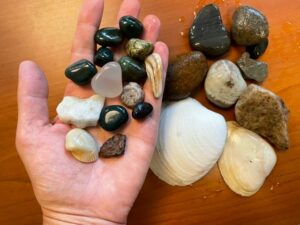 It was so lovely to see some of the congregation in person in the back yard on such a glorious September day for our Water/Stone/Shell Communion service. It was so heart-lifting to hear John, Erin and Kim make music under the blue sky, to enjoy the breeze and sun and to see each others' faces "IRL" – "In Real Life". What a long time it's been since we've had an in-person worship gathering! The universe treated us with a beautiful day.
Then again, other goings on in the universe are still creating trouble. Some of us still need and want to be very careful of our own and others' health, which is why we plan to continue with Zoom services "forever". Others of us are impatient to get back into the sanctuary and perhaps frustrated that we'll be back to a Zoom service this week. It IS frustrating! To keep our community alive, we must be more stubborn than COVID.
Rest assured that- like sailors tacking a boat in strong winds- the Board of Trustees and the North Parish 2.0 Team are constantly adjusting to new realities, statistics, research, staff input and congregational feedback. I know we all hope that the Delta surge has indeed- or will shortly- crest and head downwards, despite Labor Day weekend and public school openings. As I said on Sunday, please keep an eye on your Enews and the Website for info about how the service will be available— zoom, in person, or outdoors (or all three, like Sunday.)
This week in the office we welcomed our new Membership Coordinator Mike Antczack- whom we are so happy to have on board! He'll be training with Rebecca Driscoll over the next two weeks. Sadly, we'll then be saying goodbye to Rebecca and her dog Gracie, who is our "office therapy dog". Rebecca has been such a key member of the staff team, supporting all of the other staff and lay leaders, adding much wisdom to our discussions and planning. She will be very much missed! Fortunately, Gracie will still be going on walks in the area so we expect them to drop in now and then. Gracie knows where the treats are.
Stubbornly yours,
Rev. Lee
p.s. This week, members of First Church in Cambridge UU will be joining us for Zoom worship. Welcomers, get ready!