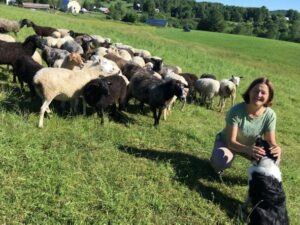 I have a friend who is a farmer in Vermont. Like many who work outdoors, a lot of her calculations depend on the weather. For example, the hay needs to be harvested not only when it is ready but before it is ruined by rain. The sheep spend more time in the barn during a summer like this one, when there are too many days that are too hot for them to wander the fields. As our weather patterns become more unpredictable due to climate change, adaptation is the only way forward… and the farming life gets more challenging.
I will desperately avoid any pastoral metaphors about clergy being shepherds to their sheep. One of my office treasures is a poem written by the member of the congregation I served in Michigan which begins, "We are not sheep, and did not wish a Shepherd to lead us in green pastures." You can say that again! But it does seem that this fall we all need to think a bit more like farmers.
Since weekly Religious Education will be outdoors in September and October, I'm reminded of the saying "There's no bad weather, just inappropriate clothing." If the tail end of a hurricane is moving through the area on a Sunday then we won't gather the kids, but a little bit of drizzle won't stop us. Drizzle is crucial to the interdependent web, so we'll find a way to incorporate that into the morning's lesson!
We'll also be holding a few outdoor services- also available by Zoom- so those who wish can gather together. Keep an eye on your Enews! We're currently planning on a 10:00 outdoor backyard service for Water Communion and the Sunday of Indigenous Peoples weekend, but plans can change.
We'll try to think like farmers. And we might even end up feeling a bit more connected to the earth.
Yours in drizzle, heat waves and everything in between,
Rev. Lee