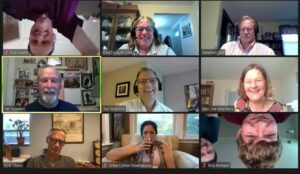 TRUSTEES MEETINGS AND RETREAT
The Board of Trustees will meet three times this summer.  Regular meetings will happen via Zoom on July 15 and August 19.  The Board will also meet for an in-person all-day retreat at Ferry Beach on July 31.  Agenda items for July 15 meeting include:
Guided tour of the parish budget and other financial matters from treasurer, Nancy Sarro.
Board of Trustees support for ministry to North Parish children, youth, and families
Preparation for retreat
The North Parish 2.0 Task Force is meeting weekly and following local developments with the Delta variant of Covid-19.  They are working to reimagine and make decisions about how we will regather in the fall. Meanwhile, the parish hall is open for small group use.  Here are details of the Phase 2A policies.   Questions should be directed to Kirk Olsen, task force chair. Contact Kirk by email through the Board of Trustees.
REQUEST FOR HELP WITH BY-LAWS REVIEW AND REVISION
Following the requirement in our by-laws, the BoT will form a task force to review the current by-laws and propose necessary updates.  If you are interested in being part of this task force, please email Board of Trustees chair, Gail Forsyth-Vail.