March 10th, 2022 Women's History Month Lecture presented by Historian Kabria Baumgartner, Ph. D. Tickets are Free and available via Eventbrite: https://www.eventbrite.com/e/275393217527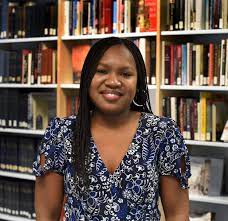 The North Andover Historical Society welcomes Kabria Baumgartner, Ph.D, Dean's Associate Professor of History and Africana Studies at Northeastern University, to the Worden Theater for her presentation on poet and educator Charlotte Forten and free black abolitionist Sarah Remond, in whose Salem, MA home Charlotte lived during the middle 19th century. Sarah and Charlotte were two of the remarkable African Americans featured on the Black History Month banners and in the Racial Justice Team Service on 2/19/22. Imagine the fun yet profound conversations between Sarah Parker Remond and Charlotte Forten when they chatted over tea, went on a stroll in Salem, or attended an antislavery meeting together. Amid these moments in the 1850s, a time of great social, political, and technological change, these two young Black women delighted in each other's company. Charlotte regarded Sarah, who was about thirteen years older, as a "very entertaining person," and Sarah perhaps saw in Charlotte a little bit of herself—a voracious reader willing to talk to anyone about Elizabeth Barrett Browning's poetry collection Prometheus Bound or Thomas Moore's Life of Byron. This talk offers a meditation on the close friendship between Sarah and Charlotte, two erudite and determined young Black women abolitionists. It traces their experiences living in Salem, and how they forged their own intellectual pathways while working toward the broader struggle for Black freedom in Essex County and beyond. Kabria Baumgartner, Ph.D., is a historian of the nineteenth-century United States with a focus on African American history, women's and gender history, and the history of education. She is the Dean's Associate Professor of History and Africana Studies, and Associate Director of Public History at Northeastern University. She is author of the award-winning book, In Pursuit of Knowledge: Black Women and Educational Activism in Antebellum America.
We ask that for the safety of our guests that attendees are vaccinated and wear masks while in the building.