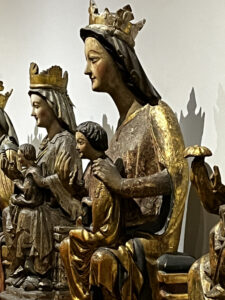 We've come to another point in the year that is full to the brim with religious observances: Holy Week which begins Sunday, Passover which begins Wednesday night, the continuation of both Ramadan and spring's awakening season since the 3rd week of March. 'Tis the season of eggs, bunnies, lambs and crocuses pushing up through the soil.
This week I was sitting in my office on a Zoom call when a magnificent red-tailed hawk landed in the American Sycamore "witness tree" outside the office window. Then the bird suddenly swooped down near the gate to the back yard– close by! As it flew away I saw it had something small and brown in its talons- a chipmunk or more likely a bunny. The hawk flew to the top of a nearby telephone pole to have its meal.  Life and loss are part of the world, and often go hand in hand. You can find them both in the multi-layered stories of spring, Passover and Easter.
When the losses feel too great, we need a big dose of life to lift us up. This week, another school shooting has hit some of us in the gut. Others of us are dealing with personal loss or other concerns. Others are looking forward to family gatherings over the upcoming religious holidays. Some can't wait to get their hands into the dirt. Still others are just trying to get through another work week.
However you are, wherever you are, however you are, whomever you love, I hope you'll join us Sunday for our weekly celebration of life and a hearty dose of North Parish people, beauty, music, contemplation and joy.  You might even want to invite a friend to sit with you– someone from the congregation whom you haven't seen in a while, or someone new who might be delightfully surprised by our unique approach to these "holy" seasons.
Yours, in awe of spring colors- from hawk tail feathers to crocus petals,
Rev. Lee