Dear Good People of North Parish,
I was so hoping to write just a brief, light-hearted column this week, reminding you all to keep North Parish in your hearts this summer by collecting some water, a shell or a stone from a place that is sacred to you– a place that is beautiful, a place that is meaningful, a place that renews your spirit, your health or your sanity.  So here it is: Remember to collect those shells, stones and water!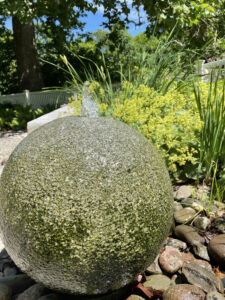 Now for the trigger warning: if you don't want a reminder of what's happened in the world this past week, stop reading here!
So much can happen in a week's time.  In addition to the revelations of witnesses to the January 6th commission, there have been a slew of upsetting decisions by this nation's Supreme Court. Three decisions have significantly torn down the separation of church and state in our nation. One has made guns easier to get, one has made abortions impossible to get in some states, one has severely reduced the EPA's ability to reduce the carbon output of existing power plants- "a blow to the nation's chances of averting catastrophic climate change."  What's a person to do? 
If your personal life is too challenging right now to let this news in, if you want to tuck your head into a turtle shell, if you are going on vacation and want forget it all- well, that's OK. Take a break! The issues will be here for a good, long while. If you are fired up and want to fight for our democracy in this critical summer window of opportunity, more power to you and all North Parish love warriors! If you could use support figuring out what to do, please reach out, come to a service and light a candle, connect and converse until our collective path emerges.    
One of you commented to me "So much is unraveling." When I'm faced with really bad news on this scale, the sound of Joni Mitchell's voice singing "Slouching Toward Bethlehem" comes to mind. It is oddly comforting- probably because it names what I'm feeling, and also because her voice is beautiful. Joni Mitchell altered some of the words of Yeats' poem slightly but kept the meaning when she sang: "Nothing is sacred, the ceremony sinks; innocence is drowned in anarchy. The best lack conviction given some time to think, and the worst are full of passion without mercy."  
Some of us may be more concerned these days about authoritarianism or autocracy than anarchy.  But even if you switch those words, the sentiment is still a bit dismal, isn't it? Yet I hereby refuse to let "the worst" keep me down or feeling helpless for long. If I let some time go by, I often find myself singing other songs in my head like Big Yellow Taxi- or I skip over to Rickie Lee Jones' song "Chuck E's in Love". Now that's a fun one.
Our world needs people who are fun, who can play, who care a lot and are merciful. It seems our Supreme Court is not. But we are. We are human, imperfect, busy and struggling people who just need a break, for Pete's sake. We are hopeful, humbled, humorous, kind people who care so deeply that we just stubbornly keep on keepin' on, trying to contribute what we can even if it feels small, gathering together. In these weeks ahead, I hope you will ground yourself in the present moment, in your senses and in the beauties of summer. May we stay merciful- towards others and ourselves.
With the love of warm days and cool nights,
Rev. Lee