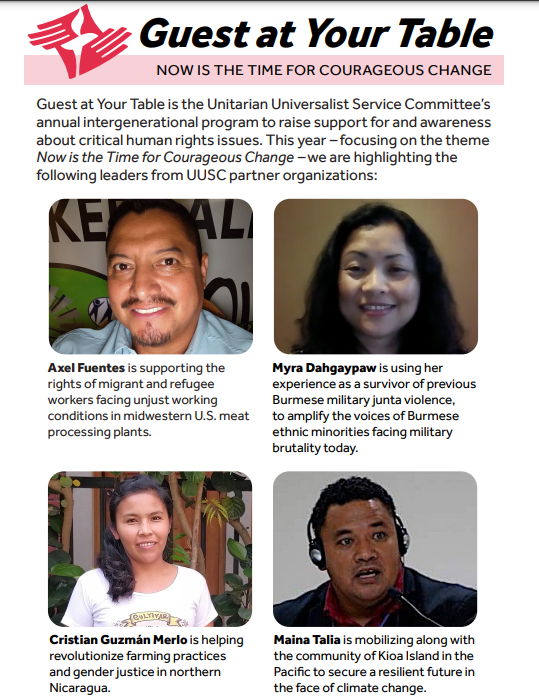 Please join us during the month of November as we join the Unitarian Universalist Service Committee (UUSC) in their annual intergenerational program for UUs of all ages to help raise monetary support for and awareness of important human rights issues.
Working in countries across the globe, and whose work is grounded in our Unitarian Universalist first principle, that all people have inherent worth and dignity, the UUSC's mission is to advance human rights and social justice everywhere through fostering relationships with grassroot movements on the frontline to support marginalized communities.
This year's UUSC theme is NOW IS THE TIME FOR COURAGEOUS CHANGE. "The injustices and crises of the past year have underscored the importance of our shared goal – a world free from oppression, where all can realize their full human rights. They also have emphasized just how big a task that is."
Guest at Your Table is a chance to get to know UUSC partners and these issues better through learning the stories of four people connected to UUSC partners as if we were sharing a meal together. They are the "guests" in Guest at Your Table. Learn more about the UUSC and this year's guests as well as find great resources and materials for deeper learning at home here.
Individual donation boxes that you can keep at your home tables to collect money in throughout the month can be picked up in the back of the sanctuary on Sunday mornings at service, or email faithformation@northparish.org to request a box delivered to your home.