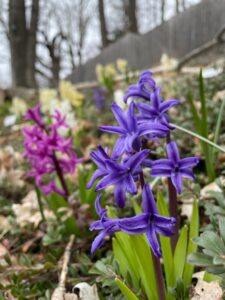 The day this eNews goes out (April 15th) is Good Friday AND the first day of Passover. If you add in Islam, it's also the middle of Ramadan- the holy month of daytime fasting and pilgrimage. Whoooo-wee, that's a lot of religious happenings on one day! If only all wars could cease today, as if these holidays were a reminder and a deadline for humanity to get its act together.
I'll be taking an hour break from my sermon writing to babysit the children of my Episcopal priest friend, who was desperate for a sitter during her Good Friday service. I pointed out that having a UU colleague does come in handy now and then, since the local cantor and I are the only ones who can cover her on Good Friday. No doubt the mood will be different in the parsonage with the 4 and 5 year olds than in her church sanctuary as folks contemplate Jesus' death and the shutting of the door to his tomb.
These are, on some levels, grown-up holidays. As I've said before, tradition says that you can't get to Easter without going through Good Friday, and you can't get to the Promised Land without wandering in the wilderness for forty years. These are holidays of celebration "despite" –  despite the tough things that happen to us all. For those of you who may be feeling more Good Friday-ish than Easter-y, more like you're thirsting in the wilderness than being treated to milk and honey, I hope you'll come to the service or zoom in, and "go through the motions" anyway.
Maybe a little music and singing and Alleluia-ing will rub off on you. And if that doesn't work, I invite you to just go ahead and join the kids (or your own kids or grandkids or a neighbor's kids) in their egg coloring or egg hunts. Why not? Pretend that you're "helping". Eggs and chicks and bunnies, running and seeking, magical things and eating candy are part of Easter too. Count on the pagans and religious naturalists to keep it simple and tangible. They remind us that after a long winter we need to take the time to be grateful and glad just to be, just to witness life and love, just to be part of it all.
A joyful, freedom-loving Passover and happy, life-loving Easter to you all.
Travel safely, breathe deeply, love abundantly,
Rev. Lee
P.S. Easter hats and bunny ears are welcome in the Meeting House on Sunday. Children and youth will begin the service with their families and then go on their egg hunt, starting in the Labyrinth. Grown-ups are welcome.