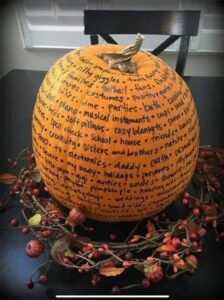 What's better than pumpkins? Or feeling grateful?
How about combining the two?!
We invite individuals, couples and families to write what you're grateful for on a pumpkin and then deliver it to North Parish before Saturday October 30th. You can add one thing each night for a few weeks OR have one big gratitude brainstorming session on the day you carve pumpkins.
Our Gratitude Pumpkins and Jack O'Lanterns will be used to line the walkways for the Halloween Movie Night on Saturday the 30th and All Souls service/Faith Formation classes on Sunday the 31st. Drop them off any time between now and the end of the month!