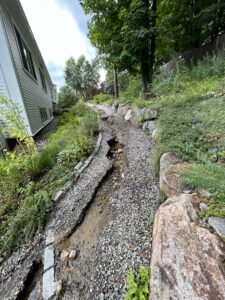 I am grateful for good rain boots.  How about you?
Some of you may have spent time sloshing about your basements as I did this week, when torrential rain overwhelmed sump pumps and places that never flood, did. As my kids and I formed a bucket brigade to get some of the water out, I said, "Imagine the people in VT who had flooding of their entire first floors!" I saw some of that evidence, photos from my friend who owns a farm outside Montpelier where the Winooski River surged from 5 feet to over 21 feet in 24 hours and nearly breached the Wrightville dam spillway above the town. My friend's farm was OK but she did have to move 250 chickens out of their flooded barn by hand, and her summer turned into one of mucking out non-profits and helping small business owners apply for federal relief funds. I hope everyone here had minimal damage from our own flooding. Meanwhile, I know our hearts are with the people of Maui who have lost so much in their devastating fires, including at least 55 human lives and possibly many more- their heaven on earth turned into hell on earth in a matter of hours.
The climate activist Bill McKibben noted in July that in addition to being the hottest week and month on record, "…it seems almost certain that this is the hottest weather on our planet in 125,000 years" Sobering words! I'm a "think globally but act locally" kind of person, so this makes me wonder: How might North Parish up our game and become an even more effective, welcoming hub of joy, empowerment, support and resilience? After all, we offer a fabulous community and practices of spiritual, ethical and emotional resilience for all ages that might come in handy for many.
Speaking of resilience, we are all holding John Middleton-Cox in our hearts as he undergoes heart surgery to correct a condition that he was diagnosed with this past year. The surgery will take place on Friday August 11th, the day many will read this, so feel free to light a chalice or send some good thoughts or prayers in John's direction! Happily, he has been told to expect a full and permanent recovery in 12 weeks. Thankfully, Christina Kennedy will be filling in for John this fall, and we'll plan to see him back at North Parish in November. Thanks also in advance to our Choir members and our volunteer musicians who will be stepping up to support Christina and John. Please see John's note to the congregation elsewhere in this Enews.
In other Big Deal news, Susanne Hinson-Rieger is joining us as our new Director of Family Religious Education this next week. Over the next month, we'll be planning our elementary, Junior Youth, OWL and multigenerational offerings, as well as reaching out to families and teams for input and participation. If you know of anyone who might like getting paid to spend Sunday mornings with some extremely cute babies and toddlers, please let them know we are looking for a Nursery Coordinator!
Yours in rain boots, ready to slosh down the path of love,
Rev. Lee