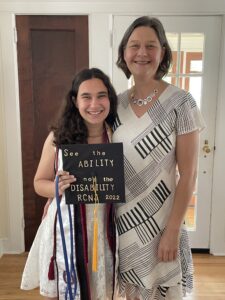 I drove my mom to see and celebrate my niece Helen's graduation from college this week. Helen had just been born and was in intensive care fighting for her life when I first interviewed with the Search Committee at North Parish in January of 1999. That was about 23 and a half years ago. It was quite something to see her on the jumbotron, leading the procession and holding the gonfalon (flag), with her hearing assistance dog Vega right behind her while the speaker shared her many accomplishments and honors. As president of the student senate, she was elected to lead the procession and was the very first into the arena. YES, I am a Very Proud Auntie!
May is the month for graduations of all sorts – from kindergarten and 5th grade, 8th grade, high school, college and graduate school. In a few weeks, we'll be celebrating our own North Parish high school graduates and wishing them well. It is good to mark these moments… and not uncommon to feel like time has suddenly slipped through our fingers. It occurs to me that I've been minister at the North Parish for the entirety of Helen's life so far. How did that happen?
To all those celebrating any sort of life passage this month (or in June), huzzah and hooray for you and your people! How lovely it is when hard work pays off- or fabulous kindergarten fun is shared.
Happy transitions and celebrations!
Rev. Lee
P.S. The Annual Meeting will be held only in person in the Sanctuary (see the Board column). Given the Supreme Court news of late, I also want to share that I am pro-choice and available to listen to anyone who is struggling with the news or related experiences.