Christmas Eve. Services ~ Friday, December 24, 3 pm, 5 & 7pm
Christmas Eve. Services – Friday, December 24
Please see below for information on our 3 pm, 5 pm & 7 pm services
Family Service and Interactive Nativity Pageant: 3 p.m. (Register for in-person or Zoom)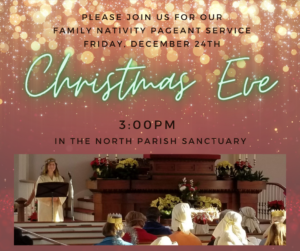 We are grateful and excited to announce that we are bringing our annual Christmas Eve family service and Nativity pageant back into the North Parish sanctuary Friday, December 24th at 3:00pm!
It will look a bit different than in years past as we will be honoring and keeping with COVID safety protocols, but we will be coming together again during this season of joy and hope and love to celebrate the sacredness and beauty of Christmas and joining in with one another for an interactive telling of the First Nativity. Please join us as we dive into paper bags filled with fun costume pieces and props and transform ourselves into Mary and Joseph, Shepherds, Wise People, Sheep, Donkeys, Angels and more!
All families are also invited to an outdoor Christmas Carol Singing at 6:00 pm in the circle in front of the Meeting House!
We understand that our youngest children (under 5) may not yet be vaccinated, and some older children may be just partially through the vaccination process. For this special service, all children are welcome, as we feel our protocols create a safe space for everyone. Our protocols include wearing of face masks, socially distanced seating in family pods, 80 people maximum, air purifiers within the space, minimal movement and very limited singing.  pace is limited and pre-registration to attend is required. Click HERE to sign up.
Candlelight & Music:  5 p.m. (Register for in-person or Zoom)
Between 5 & 7 pm Services: OUTDOOR CAROL SINGING– All Welcome!
Candlelight & Music:  7 p.m. (Register for in-person, 5 p.m. Zoom recording will be available online)
No Service Dec. 26; Zoom link provided here to 2021 new year poetry service
New Year's Service: Jan 2 at 10 a.m.