Ready or not, here they come- three big winter holidays- all in a row!
Hanukkah begins in two days, at sunset this Sunday. The Winter Solstice comes in five, five more days of increasing darkness until the moment of pause and the days grow longer again. There's a whole week until Christmas Eve, when we'll be celebrating with music and ancient story, both in person and via Zoom.
The holiday season is about so much more than a single, special day- although Christmas morning is certainly the focus for children waiting for Santa. When they no longer believe, some folks have The Talk with their growing kids, inviting them to join Santa in spreading kindness and happiness. How excellent that we can create Christmas wonder with the simplest- and grandest- of gestures.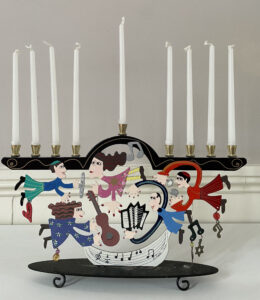 Every year, I am so grateful for our musicians, who do so much to "create Christmas" for others. This Sunday, we are saying goodbye to one of our long-term Choir members who has done so much over three decades of music ministry… and she's taking her husband with her! Suzanne and Gary Adams are moving to New Hampshire to be near family, and I am so very grateful for all that they have both brought to North Parish. We wish them the happiest of Christmas Eves in their new home and congregation.
It turns out that it doesn't really matter if you're "ready" for Christmas or not, because what really matters are the people in our lives. For those of you who will spend time with young children this next week, enjoy them to the hilt! For those of you who love the earth, may you brave the cold to be in touch with it, and to wonder at the night sky! For those who light candles, or sing, or see family, or meet with friends, or open presents, or come to services… may you find what you most need, this year.
Yours, eagerly awaiting Solstice joy, Rev. Lee
P.S. There are a lot of cases of flu, COVID and colds making the rounds these days. We expect the sanctuary to be a bit more crowded on Christmas Eve than it has been, so you may want to wear a mask. The entire left half of the sanctuary will be reserved for those wearing masks. We will also be limiting attendance in the sanctuary to 200 people, with overflow if necessary in Parish Hall, where we'll set up a screen to show the service. We will be zooming both the 3:00 Pageant Service and the 5:00 Service of Lessons & Carols, with the recording available on the website- we hope!- by about 7 pm. There is a special Zoom link for Christmas Eve, which will work for both of those services!