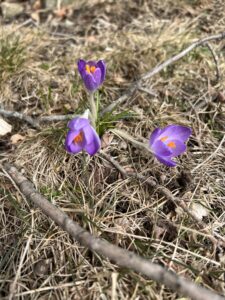 Hopefully, you all received and read the Board communication about the resignation of a beloved staff member, Director of Faith Formation Kerry Anne Kilkelly. Kerry Anne will be finishing out the year with North Parish but will not be continuing beyond that. If you missed the letter from the Board this past week and can't find it in your email, please reach out to BoardofTrustees@northparish.org if you'd like another copy sent to you.
Kerry Anne will be sorely missed by all of us! I am so grateful to her for stepping up to be our Interim Director of Religious Education at the end of the 2020 church year when Rev. Erica left, and then agreeing to continue in the role under pandemic circumstances that were challenging, frustrating and baffling to even the most experienced religious educators. She has managed to keep North Parish kids and youth connected and supported over the last three years. Sadly, we have not been able to give her the paid or volunteer staff the current program needs, no matter who is in the role as Director.
The pandemic revealed something that the UUA has been saying for quite some time: traditional UU religious education classes are no longer sustainable without sufficient paid staff. Our program worked when we had three staff members available on Sundays (i.e. Rev. Hillary Collins-Gilpatrick, Youth Coordinator Carina Lawrence, and Elementary Coordinator Kerry Anne.)  The Board will be looking for a team to discern a new, simpler way to help raise our UU kids as we move forward, and they welcome your creative ideas.
On another note about loss, last Sunday I mentioned that the UU Congregation of Andover recently voted to close, and some of you have asked me about this. They have a lot to figure out and will be taking the time to do that. Their minister will be finishing her time with them in June, and they will be taking the next year to discern their path forward. The Exec Team (Gail Forsyth-Vail, Erika Cohen-Maddaluno, Lynn Wentzel, me) will be interviewed by one of their discernment teams, as they look at various options and several congregations. Our hearts go out to them as they face this significant rite of passage for the entire congregation.
We human beings generally don't like "not knowing" what comes next in our lives ahead. But as the Buddhist Joseph Goldstein once said, "Anything can happen at any time." Impermanence is real. May we be grateful and glad for some of the precious moments we have every day, and may we enjoy and appreciate each other in the time we have.
Yours, Rev. Lee