What a beautiful moon we had for the Winter Solstice!  Small delights can become such big joys when we need them- and let them.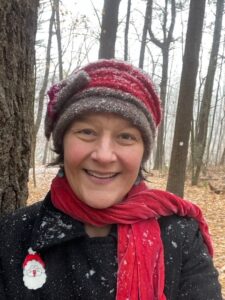 This week, each day seems to bring new surprises. I keep talking to people whose Christmas plans have suddenly changed due to COVID popping up among family members… or due to the need to take extra precautions. Like a cat with a mouse, this pandemic isn't done playing with us yet, and some of us may be feeling pretty roughed up.
For some, downsized holiday plans have just been downsized yet again. If you are feeling disappointed and demoralized, adrift or a bit lonely, I hope that something North Parish offers can bring some meaning and even merriment to your holiday. In addition to Friday's services and caroling, our website has a link to last year's Pageant service and (silly-at-times) Nativity Movie. Or perhaps you still have a place to play the old NP holiday music CDs! Our outreach collection is for Emmaus House and Lazarus House if you want to give a meaningful gift and help homeless families. Some may want to join our youngest children in a Yule/Christmas Day tradition of feeding the birds and wild animals around our homes. Some may want to call or check in on a North Parish friend or acquaintance. Small delights can become such big joys.
Is there life after Christmas? Why yes! On Sunday the 26th, a lovely service of music and poetry by Denise VanVooren will be available via a link on the website. In January, it will be time to (perhaps) set an intention for the winter as well as start looking towards the annual remembrance of the Rev. Dr. Martin Luther King Jr.
I hope for all of you good health this week and into the new year- and I really mean that! I hope for you all some time to rest. I hope for you all a few small delights that, when welcomed and noticed, become big joys.
My teenagers and I wish you a healthy, restful, merry Christmas!
Yours,
Rev. Lee