I recently listened to a podcast on burnout- especially for medical staff, teachers and parents. How many of you are feeling it out there?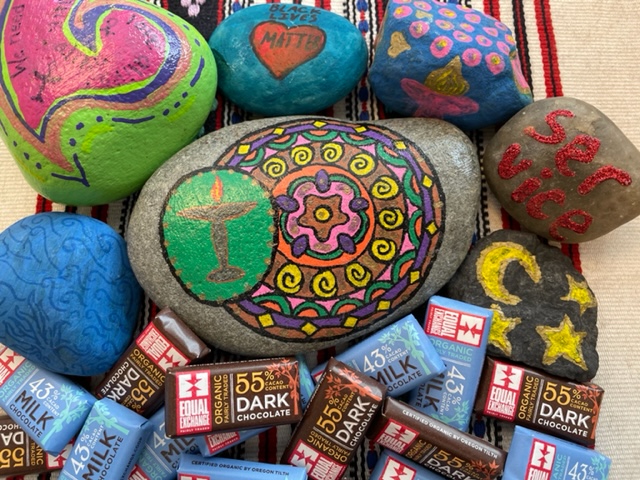 One part of the talk struck me: the story of a travel COVID-ICU nurse who said that wherever she goes all of her patients die, in the same way, and her feelings side- her heart- was just shut down. It was during a family trip to Disney when the fireworks started that her grief broke through- and she let it all out, just sobbing- a healthy human reaction.
We can't all get to Disney World, but I invite you to invite others into a space and an hour designed to be big enough to hold big feelings: our sanctuary and Sunday services. Can we agree right now that since music touches the heart, if anyone starts crying during the service we'll just pass the tissues and whisper: "Go ahead, let it all out!"
It looks like we may be entering a good run of weeks and months of reduced COVID risk, so I truly hope that we'll take advantage of it.  I hope you'll encourage friends and those who've "COVID checked out" to engage with the congregation for these next four and a half months of the "regular" church year. For members, one key meeting will take place starting promptly at 1:00 this Sunday (note the time! It is different than what was on the postcard!) The Board of Trustees and others will be leading a substantial conversation about church finances including the stewardship drive and upcoming building projects. Given various recent COVID-related challenges, how can we possibly keep our current staffing profile next year?  How can we tackle the built-in long term financial challenges that most churches like ours are facing? And what is this talk about CHANGE and the PULPIT, anyway? Whether you hate the hierarchical feeling and inaccessibility of the high pulpit or feel it is a sacred cow (or sacred structure) that Shall Not Be Messed With, come and hear what's being talked about these days in various Zoom meetings.
This Sunday, we will celebrate our "traditional" mid-February chocolate communion, even though we are still waiting to have the children back in the sanctuary until the under-fives are vaccinated.  The young people will get their chocolate in their classes/youth groups.
Hope to see you on the Zoom or in the pews, whether you're burned out or on a sugar high!
Rev. Lee
p.s. Just to be clear, thanks to my sabbatical I am not burned out – and I'm happy to chat or walk with you. Just send me an email with a couple of days/times that work for you.