This week, I believe we saw "the courage of Esther" in real time. (If you don't know what I'm talking about, see Sunday's sermon about Purim and Queen Esther.) We saw it on Monday night when Marina Ovsyannikova, an editor at Russian state-owned tv news, ran onto the set of the live newscast speaking out and holding a handmade sign that read: "No war. Stop the war. Don't believe propaganda. You are being lied to here." We have since learned that her father is Ukrainian and her mother is Russian, that she is feeling ashamed of contributing to the spread of Russian propaganda by her work at the station, and that she was interrogated for 14 hours after the incident with no legal representation. Many of us worry that she could end up in jail with a 15 year sentence due to the brand new Russian "fake news" law, even though she has two children at home. Need we say more? The courage of Esther.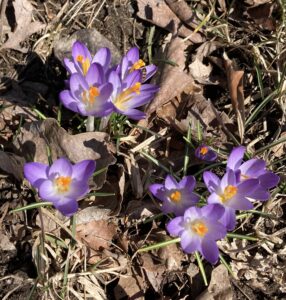 As for me, somehow it was only after hearing about the "Faithify" outreach appeal to help Romanian Unitarian congregations that I suddenly realized that yes, of course, our Unitarian kin in Romania are on the front lines of the refugee crisis of this war. I visited the Transylvania region of Romania back in about 1998 as part of a UU pilgrimage. It was so moving to learn about the sacrifices, suffering and struggle of Unitarians under the Romanian communist dictatorship from 1947 to 1989.  Here's another connection: For a time, North Parish had a partner church in Romania. Members of the congregation- Erik Kesting, Pam Amiralian, Jerusha Ryan and Paul McCarthy, Dave Lewis as I recall- visited the church to bring gifts and meet the Unitarians there, and some of us helped host their youth group and minister when they visited one July. It's a small world… with so many surprising and meaningful connections.
This Sunday, we'll be treated to a guest sermon by Woullard Lett, the "Lead" of the UUA's New England Regional group, which resources 232 UU congregations throughout New England. I remain grateful to Woullard for showing North Parish (and me) spiritual and emotional support by driving down from NH to attend our Sunday service right after the September 2018 Gas Disaster, for joining us when y'all celebrated my 20th year here in October of 2019, and for bringing greetings from the Region via Zoom on our 375th Birthday Sunday in October of 2020. This time, we'll get to hear about his religious leadership work around the concept of reparations. If you're not sure about the idea yourself or what it entails, I encourage to you tune in and hear Woullard's reflections. Unitarian Universalists not only proclaim freedom of belief in both pulpit and pew, but we agree to listen deeply to each other, to respect one another's truth and integrity, and to walk towards challenges rather than avoid them… because we are bold enough, brave enough and loving enough!
Yours, humbled by the courage of others,
Rev. Lee