Two years ago, the Worship Arts team set an objective to enliven our space with color and expression. As one of the initiatives, we invited members of our community to illustrate a one-word expression of the theme of Beloved Community. Their two-dimensional piece, 8"x 8", was to be made with their choice of word, in their choice of medium, suitable for hanging with Command strips (we must protect our painted walls). Twenty-two pieces were submitted.
Due to the pandemic, we delayed our original plans to display the works – waiting until we could determine a suitable location and time to safely gather in the building. In the interim, we incorporated all the images in the redesign of our new website pages. Unfortunately, over the time between creation and display, a couple of artists lost their piece – who among us hasn't lost a thing or two over these past two years – however, through the magic of digital reproduction, we have a reprint of their work. All twenty-two images are now on display in the foyer that leads into our sanctuary. Statements from the artists are also available in a binder on the entry table.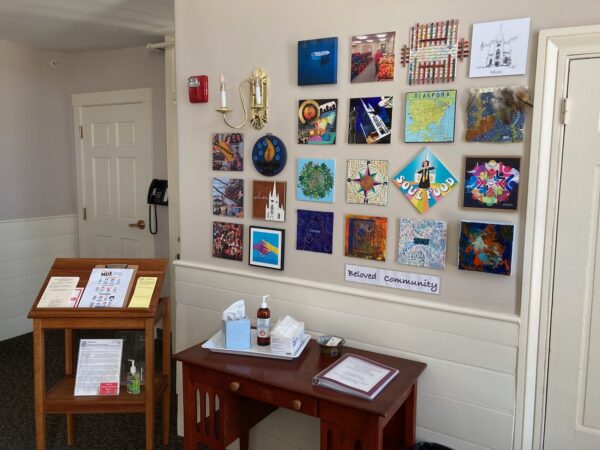 Artists included in the display are Kim Adami, Suzanne Adams, Pamela Bearor-Amiralian, Carolyn Bonier, Rev. Lee Bluemel, Emma Buchannan, Helen Cymbala, Gail Forsyth-Vail, Molly Kerrigan, Linda King, Lorryn Kinkaid, Lynn & Bruce Langton, Annakiya Kirkpatrick Marshall, Kate McHugh, People's Pantry, Debb Putnam, Will Putnam, Chris Schena, Simone Vermette, Denise Van Vooren, Shar Wolff.church office.
We hope you will stop by to see in person how the artists chose to express in word and image their feelings about North Parish. What word and image might you bring to mind? Interested in learning more about the Worship Arts team or helping with future projects? Contact us through the