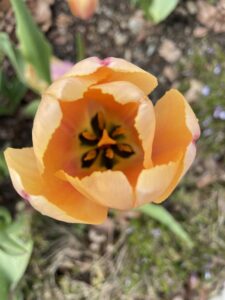 This Sunday is May 1st, half-way between the spring equinox and the summer solstice, long celebrated as Beltane in the Gaelic/Celtic/pagan tradition in Ireland, Scotland and the Isle of Man. It is also the beginning of Asian American/Pacific Islander American Heritage Month. Gratitude and happiness to the UU followers of Celtic spirituality and to the AAPI Unitarian Universalists among us.
The Soul Matters theme for the month is "Nurturing Beauty" which at first might seem like a lightweight topic in a time of war and ecological crisis. But is it?  Here are a few of the contemplative questions that our small groups may be musing about this month, and you are invited to consider as well… perhaps while you're gardening or taking a spring walk.
Have you ever been healed by beauty?
Have you ever experienced a beautiful goodbye?
Does the sacred speak to you through beauty?
Are beauty and morality connected?  How?
What makes a beautiful soul… and who in your life needs to be told they ARE a beautiful soul?  (Pets most certainly included!)
We are sooooo lucky to be surrounded by beauty, and it seems we must hold onto it and nurture it for those who are not.
With gratitude for all the spring beauty that heartens us, and for all of YOUR beautiful souls!
Rev. Lee