Saturday, June 3rd; 12 – 4 PM
All proceeds from the sale to benefit North Parish!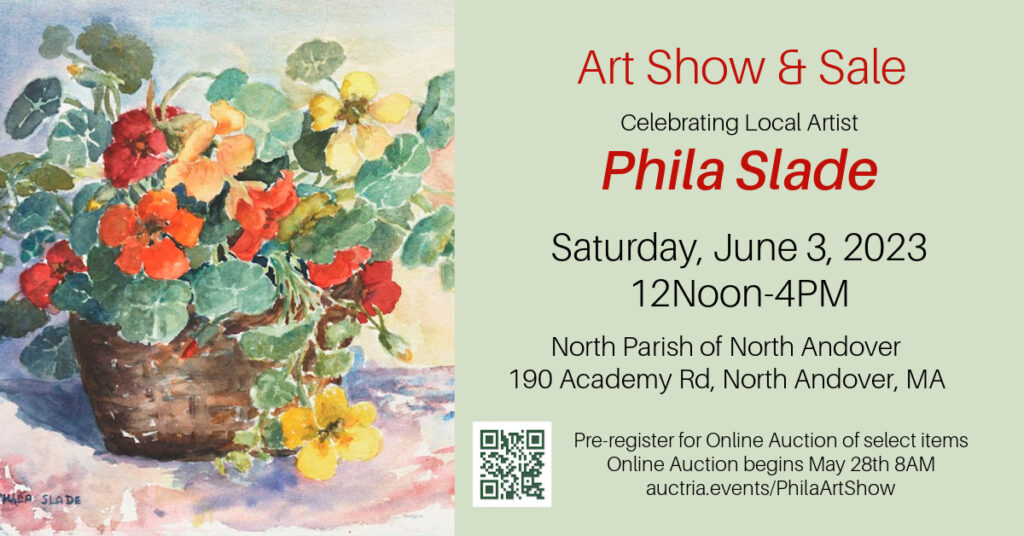 Celebrate the work of North Parish artist Phila Slade with a sale of watercolors selected from her collection of work. This is a rare opportunity to view and purchase Phila's original works, and to celebrate a local North Andover treasure. Watercolor and assorted media, whose subjects range from landscapes and florals to abstract and non-objective. Approximately 200 works will be for sale. Paintings are framed and unframed at a variety of price points. The in-person show and sale will take place on Saturday, June 3rd from 12-4 pm at North Parish Church, 190 Academy Rd., North Andover, MA.
Online Bidding is Live for Select Phila Slade Artwork
A selection of Phila Slade paintings are now open for bidding on at auctria.events/PhilaArtShow. Bidding ends at 3 pm on Saturday June 3. All proceeds benefit North Parish.
Desserts and Drinks Needed
Desserts and Drinks are needed for the reception for the Phila Slade Art Show and Sale that benefits North Parish on Saturday, June 3. Donations of small cookies (purchased or home-made) that can be eaten without a fork, or drinks such as sparkling water or sparkling cider would be appreciated. Please contact Leslie Young Lemire at jlyounglemire@gmail.com for more information.